---
CVSA Home
---
Spring '18 Ops Guide

Schedule & Scores
Standings
CVSA Cup
Disciplinary Page
Available Players
Calendar/Bulletin Board
Field Locations
Team Information
Bryan Park
Treasurer's Page
CVSA Constitution
CVSA Bylaws
Central Virginia Soccer
Referee Association
---
Insurance Claims
---
E-Mail the Officers:
PRESIDENT:
Rob Witte
---
VICE PRESIDENT:
Shawn Shelton
---
EXEC. SECRETARY:
Liz McAdory
---
TREASURER:
Jamie Williams
---
SCHEDULING:
Brian Bartlett
---
REGISTRAR:
J.R. Fox
---
PUBLIC RELATIONS:
John Paul Cheski
---
FIELD MAINTENANCE:
Derek McCown
---
AT-LARGE:
Andrew Barksdale
Jonathan Blair
Patrick Henry
Jonathon Tolbert
Bruce Williams
---
Weather Forecasts:


---
Contact CVSA:
P.O. Box 18176
Richmond, VA 23226

---
TEAM LINKS:
Atlas Soccer Club
Atlas
Titans
A.C. Thunder
Lady Titans
Atlas Coed
Titans Coed
Edo's Squid
Mamma Zû FC
Edo's Squid
Fan Rats
Lions FC
LOKO FC
Metro Sting FC
Partizan Richmond FC
Quilmes AC
Richmond Blaze FC
Richmond City FC
Richmond FC
Screaming Eagles FC
X-Rams
---





---
Bryan Park Soccer Complex
---
PLEASE PICK UP YOUR TRASH, INCLUDING TAPE!!! Thank You, Cary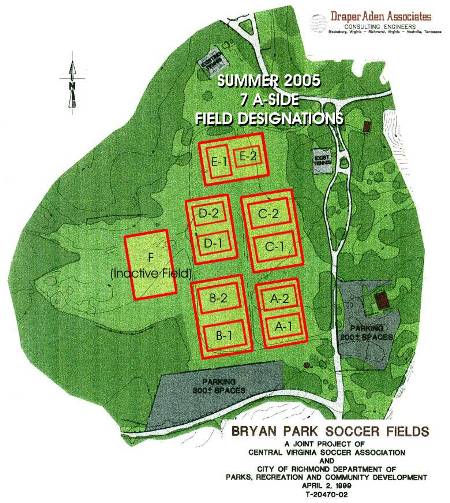 Click to enlarge Summer 2005 7 a-side map (144Kb)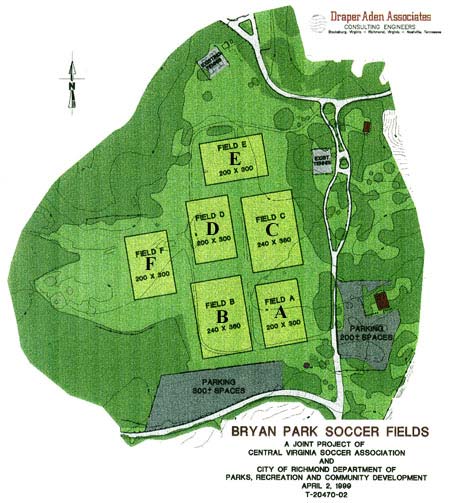 Click to enlarge Spring Map (139Kb)
The Central Virginia Soccer Association has lead in the development of the Bryan Park Soccer Complex, contributing over $200,000.00, and directly securing grants totalling more than $75,000.00. The CVSA is affiliated with the United States Soccer Federation (USSF), and Fédération Internationale de Football Association (FIFA). The realization of the soccer complex is an integral part of an overall inner-city program. Currently the City of Richmond has seen a 100% increase in youth soccer participation since 1994. The rapid growth is experienced in both the boy's and the girl's programs. The program already has over 4,000 participants, employing more volunteers than any other youth sports program in the city of Richmond.
Bryan Park originated as a 279-acre estate known as Rosewood which was owned by the Mordecai family. In 1909, Isabelle Lamont Bryan and her sons bought Rosewood at public auction. Mrs. Bryan donated the land to the City of Richmond as memorial to her late husband, Joseph Bryan, who in the late 1880's began publishing the Richmond Times, which has evolved into today's Richmond Times-Dispatch. The park is an English-style naturalistic park with ponds, hiking trails, wildlife, mature hardwoods, tennis courts, playgrounds, picnic shelters, and a seventeen-acre azalea garden.
The use of the fields is governed by the Bryan Park Operating Committee. This committee consists of one representative each from the following bodies:

City of Richmond, Recreation & Parks
Richmond Recreation & Parks Foundation
Virginia Commonwealth University
Central Virginia Soccer Association
Article VII.3 of the Bryan Park Operating Agreement states:

The parties agree that CVSA shall be given first preference to reserve the use of all soccer fields on Sundays for league and tournament play.
---
PERMIT NEEDED
FOR USE OF FIELD

SE REQUIRE
AUTORIZATION
PARA EL USO
DE LOS CAMPOS
DEPORTIVOS


Pictures of Bryan Park - Fields & Facilities
---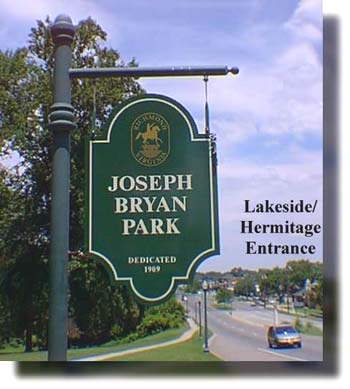 This sign is on Hermitage Rd / Lakeside Ave.
---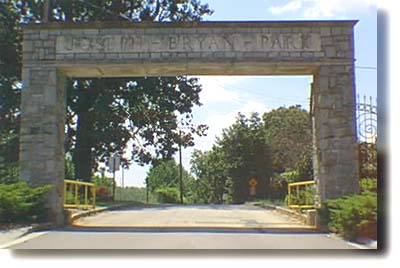 Entrance off Hermitage/Lakeside by I-95 overpass
---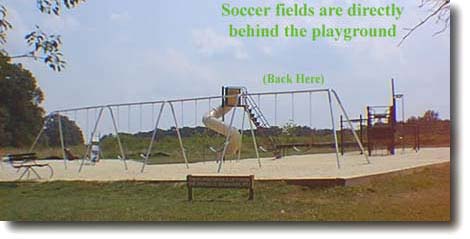 Playground next to soccer fields
---

Public picnic areas located adjacent to the soccer fields
---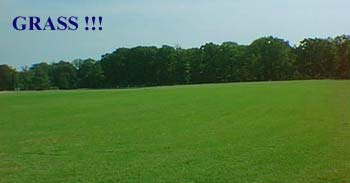 Progress as of 10/1/98, GRASS!!!
---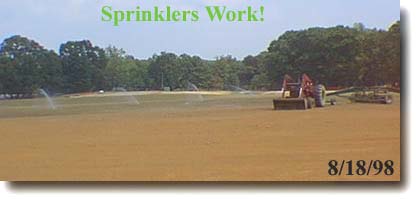 Progress as of 8/18/98, installation of sprinkler sys.
---
Progress as of 7/7/98, installation of sprinkler sys.
---
---
---